Writer's Nook: View From the Bed
When a returning guest Jennifer S., working on a play at Adytum, suggested we add a coffee table and reading lamp near the couch in the Star Suite, it began a transformation of the Star of the North Suite into a Love Nest.
Antique Trunk Turned Coffee Table and Light Makes for Nice Reading & Writing
The bird theme increased, an antique trunk was brought into serve as coffee table and the City of Love and Light: Paris, France, became the love interest alongside love letters by Kahlil Gibran and others…
Since birds imply gardens, many things from the Adytum gardens were also brought in to create a romantic, garden love nest to set your dreams into flight.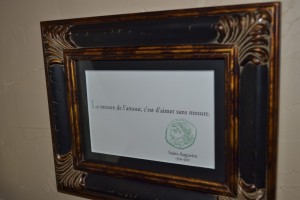 The Measure of Love is Love Without Measure
I've always said that every guest leaves something of themselves behind at Adytum. This time, by honestly answering my query, "Did you have any suggestions to make the Star of the North Suite better for your next visit?"
Jennifer has helped to begin new uses for the suite. She plans to return, driving in from Seattle, quarterly and has decided to ask other writers and poets to join her here. "It really works for me…" and now, thanks to Jennifer, it will really work for others who want to shut themselves in and emerge with a new creation.